Facets
Overview
For more than twenty years, Rice Architecture has engaged the world and our community by challenging students to contribute directly to the built environment. Construct designs and builds projects that produce lasting effects, working with local community groups to create enduring resources for underserved neighborhoods while building knowledge through research and experience.
First established as Rice Building Workshop, Construct reaffirms Rice Architecture's commitment to student design-build education and social engagement while drawing added emphasis to innovation through design research and technology. 
Working at various scales and in diverse situations, students engage all facets of the creative process—conception through construction. Expanding their knowledge in the pursuit of novel solutions to real-world challenges, students work together to test concepts against the practical realties of budget and schedule, explore innovative means of analysis and fabrication, and translate forward-thinking designs into built works.
Architecture students at all levels, from sophomores through the graduate program, participate in Construct seminars where projects range in scale from furniture to buildings to neighborhoods, and involve different stages in the process of design and making. Advanced students can also take part in Studio Construct as part of Totalization where studio research is applied directly to the design of a building for construction. Some projects reach fruition in one semester; others may require several years to move from idea to completion. During design, Construct works much like an architectural practice as students meet with clients to develop programs, work in small teams to generate ideas, consult with engineers and refine proposals in response to budget, technical details, and code compliance. During construction, seminar students adapt designs to changing circumstances, fine-tune documentation, fabricate custom components, or simply commit their time and effort to the hands-on process of building, deriving both knowledge and personal satisfaction from seeing their ideas shepherded into being.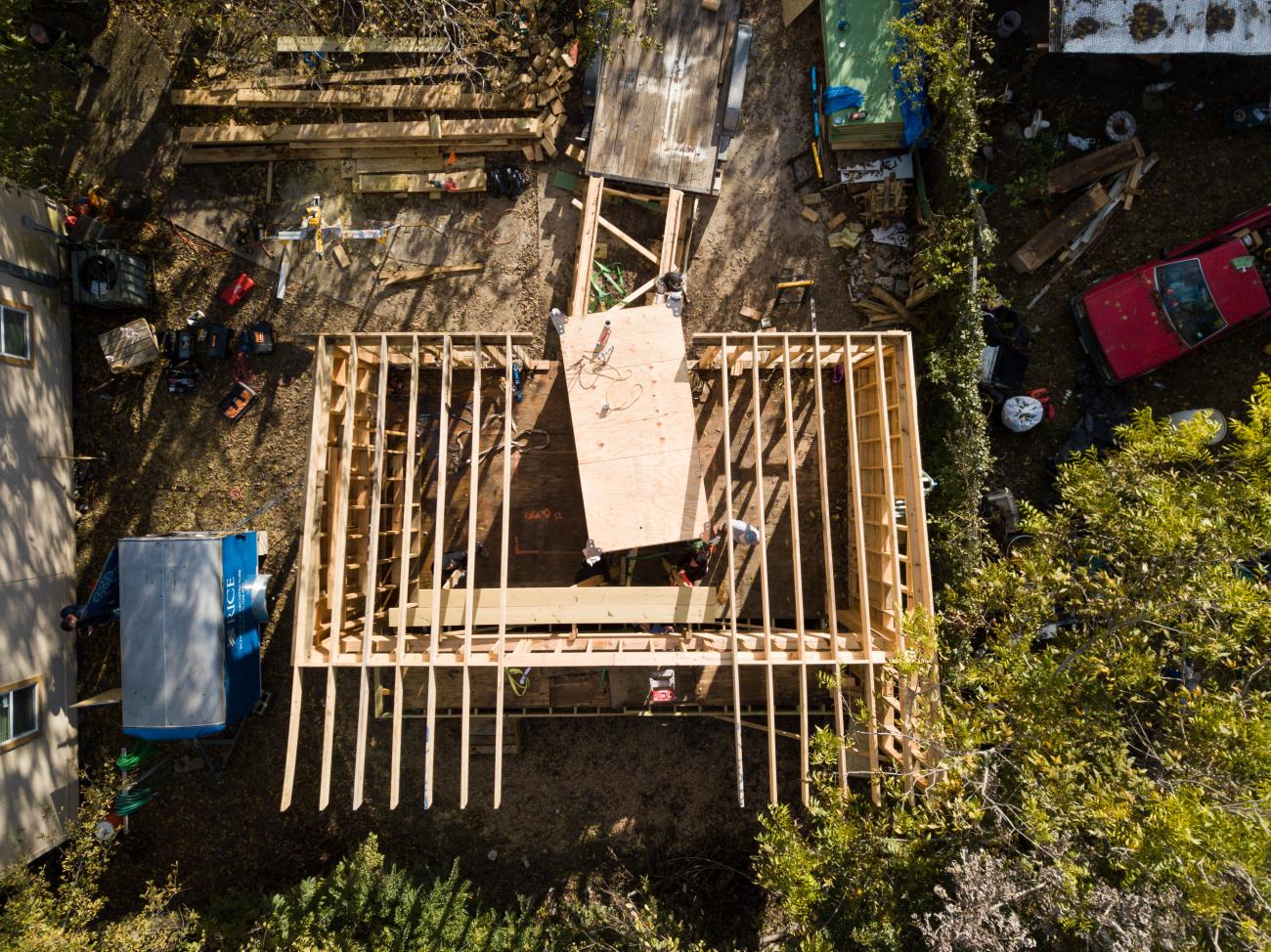 Every project reflects a collaborative process of development as students work with faculty, clients, consultants, suppliers, crafts-people, contractors and, perhaps most importantly, each other. Twenty years and seven hundred students later, the organization has created more than thirty innovative projects. Each expands the school's horizons, bringing us into contact with an extraordinary array of collaborating non-profit organizations, including Buffalo Bayou Partnership, Covenant Community Capital, Agape Development, FotoFest, Workshop Houston, Herman Park Conservancy, The Menil Collection and Project Row Houses. What our students take away in experience, they give back to these organizations and to the people of Houston that these organizations serve.
Construct is co-directed by Assistant Professor Andrew Colopy and Professor in the Practice Danny Samuels. It was founded in 1996 as Rice Building Workshop (RBW) by Professors in the Practice Danny Samuels and Nonya Grenader.